This easy-to-use software package will give you the control that you need over your retail inventory. From a single station installation to a multi-station, multi-store setup RETAIL Solution can make managing your inventory easier and more efficient.
The software runs on Industry Standard PC-Based equipment. No expensive proprietary hardware is required so you are assured of the greatest flexibility in configuring your system, as well as a high level of investment protection in your hardware. Modest operating requirements mean that even "entry level" computers will provide more than adequate performance.
Combining an electronic cash drawer, laser barcode scanner, receipt printer, and customer pole display you can have a full-fledged intelligent point-of-sale register, or select the components that you need for a customized point-of-sale solution.
From pull down menus, to pop-up lists, to hot-key functions, this system is very easy to use and requires only a minimum learning curve to be a proficient user.
And finally, support is guaranteed to be hassle free since this package was developed, and is supported, right here in the Bahamas.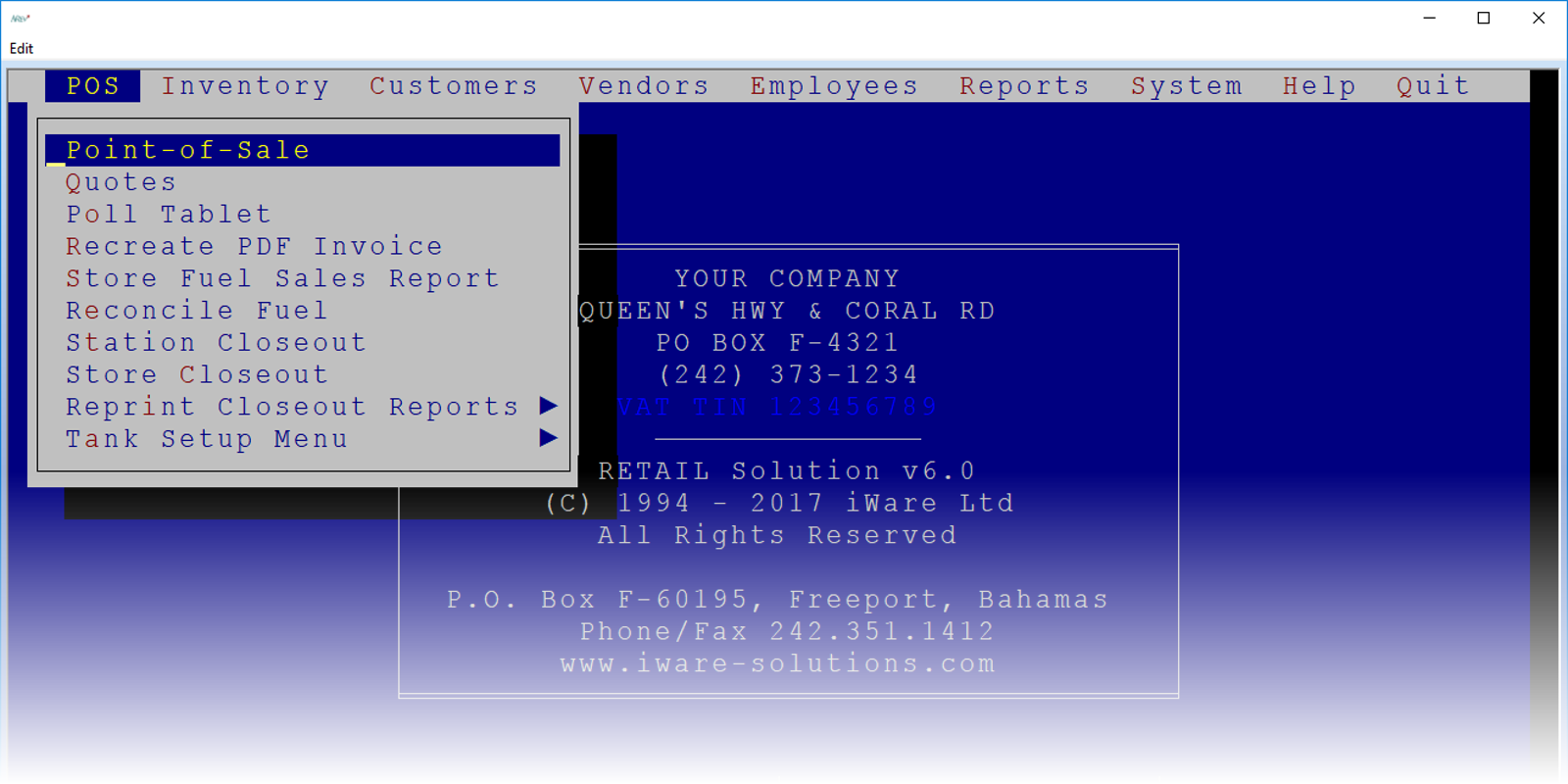 Key Software Features:
Inventory:
Handles bonded inventory
Tracks true landed cost
Tracks non-inventory items ( e.g. labour, services, etc)
Handles multiple UPC codes per item
Multiple price levels and quantity breaks
Item lookups
Supports purchase orders with auto-populate and auto receiving
Prints barcode/item labels (optional)
Customers:
Supports Value Added Tax (VAT)
Handles bonded inventory
Tracks fuel inventory (optional)
Discount price levels
Automatic customer lookup
Prints statements or email PDF statements
Sales:
Item lookup by UPC, description, reorder number,
Ability to sell non-inventory items (labour, services, etc.)
Line item discounts by percentage or amount
Customizable security for clerk functions
Handles layaway sales
Handles quotes and conversion of quote to sale
Prints thermal receipts or laser invoices
Prints on plain paper or custom forms
Supports barcode scanners
Supports customer/pole display
Supports electronic cash drawers
Supports signature pads for signature capture
PDF creation and emailing of invoices, quotes, and statements (optional)
Customizable End-of-Day reports
Automatic posting to customer accounts
Supports shifts
General:
Three customizable security levels for users
Supports magnetic stripe ID cards for users
Multi-store support
Allows stock transfers between stores
Detailed inventory and customer reports
Exports to QuickBooks (optional)
Customization available
---
For more information, complete the form below: