Are you processing your payroll manually, using a spreadsheet, or are trying to force fit a US or Canadian payroll application to suit your needs?
If you are, or even if you are using another Bahamian payroll solution, then you will be interested in what PAYROLL Solution can do for you.
PAYROLL Solution addresses the needs of processing payroll in the Bahamas. It calculates and performs all of the National Insurance deductions automatically during each payroll cycle. Then at the end of the month, you can print a report to be submitted to the National Insurance Board with all of the contributions for the month.
We have two versions to choose from, Lite and Full.
The Lite version is for those who just want the standard payroll functions and have only one company to process payroll for.
The Full version gives you multi-company support and also provides import and export capabilities so that you can export financial data to your accounting application and import timesheets from a time and attendance system. If you don't need the extra capabilities, you can save on the purchase price.
Of course, if your needs change in the future you can always upgrade from the Lite to the Full version.
And best of all you can install PAYROLL Solution at no cost and try it for 30 days (or 30 uses, whichever comes first) to see if you like it. If you do, and we are sure that you will, simply purchase and register it with your company information via a registration file which can be emailed to you…without losing any of your data.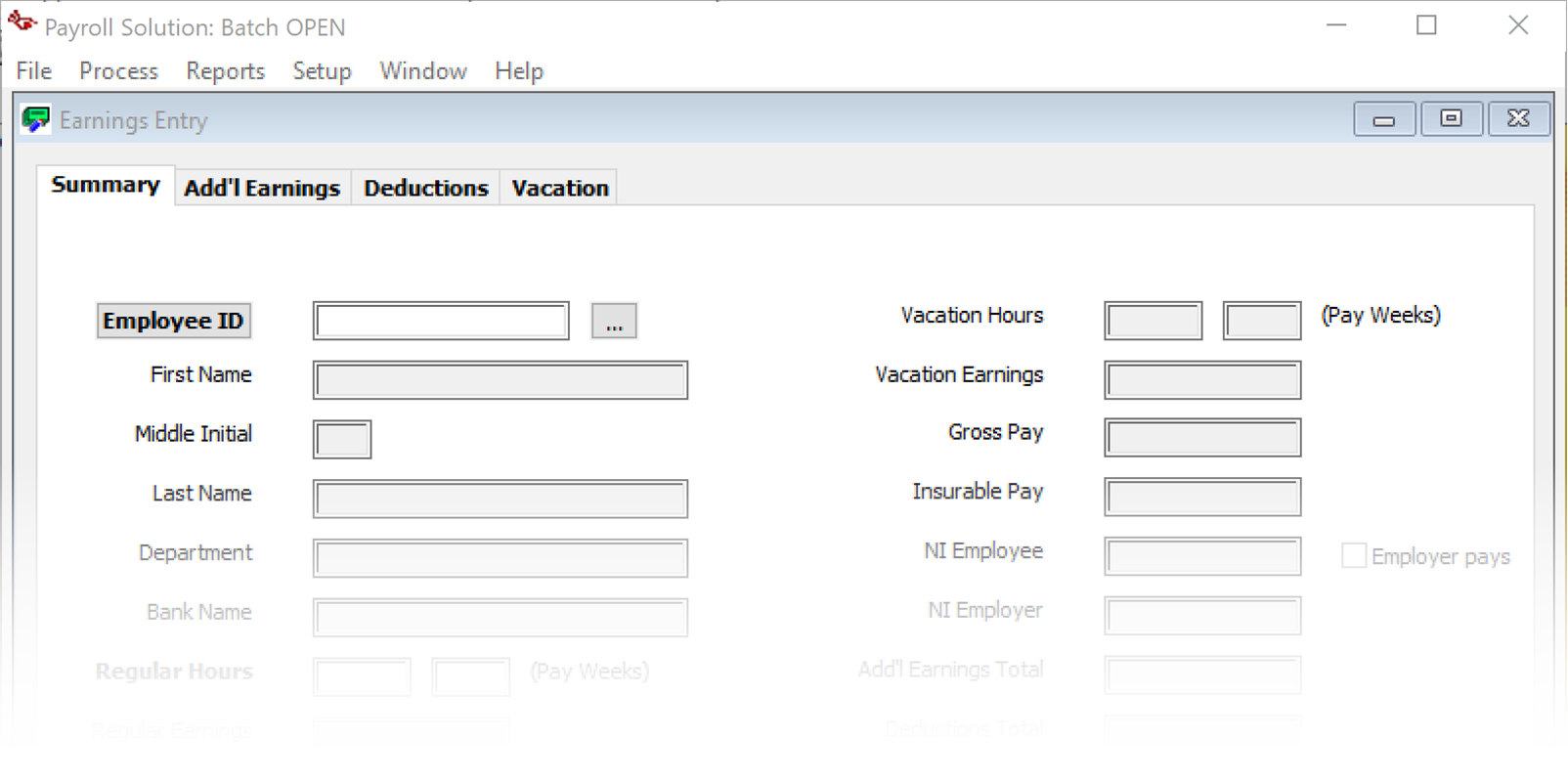 Key Features (both versions):
Automatic calculation of National Insurance deductions
Includes full support for gratuities
Unlimited number of employees
User definable additional earnings
User definable deductions
Allows earnings to be assigned to user definable jobs
Employee assigned additional earnings or deductions
Ability to quick pay employees
Prints payroll cheques and/or paystubs
Optional emailing of PDF paystubs
Supports direct deposits
Tracks sick, vacation, and other hours allowed/taken
Prints NIB C-10 form
Full version also includes:
Support for electronic time and attendance systems
Support for exporting to accounting software
Multi-company support
Optional multi-user support:
Software can be converted to multi-user system
Use the contact form below for more information
---
Don't spend thousand on competing products.  PAYROLL Solution is affordable to all business sizes.  Check out our pricing options:
Pricing & options
---
Don't wait to find out how PAYROLL Solution can help you.  Download a free trial now:
Download a free trial
---
For more information, complete the form below: